Tecomatic Concrete Mattress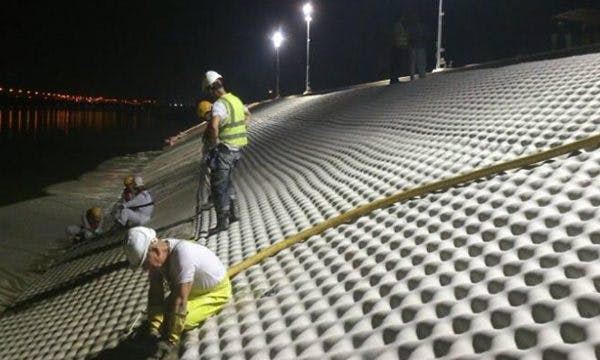 Concrete mattress
Tecomatic continuously develops the approach when using the concrete mattresses to always offer the best solution. As a result of this development work, it is possible, for example, to offer heavier products, ie thicker concrete mattresses, and combine different product types with each other. This makes Tecomatic concrete mattresses a cost effective alternative, as you have the right mattress for existing forces. Because the mattress requires much less thorough material than other structures such as anti-corrosion protection, reverse filters or gabions, we minimize transportation, it is also a quick method which makes concrete mattresses a good environmental choice. Tecomatic staff are always involved in carrying out the projects to ensure the best quality. With the right control program, we get an erosion protection with a long service life.
Filter point mattress: A mattress with filter points that creates even pressure.
Smooth mattress: A mattress that is designed with a dense and heavy construction.
Block mattress: A mattress that has a knuckle joint when possible.
Book a web demo to learn more about our products
Would you like to know more about tecomatic and what we can do for you?
Book a web demo now